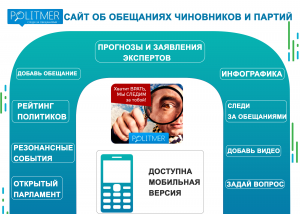 The "Politmer" project is an online tool that allows constantly monitor political statements and promises, and monitor their practical implementation. "Politmer" was launched in 2011. Initially, the project helped voters determine the choice of political leaders, providing citizens with the most complete information about the activities of candidates, their political promises, programs and real achievements.
At the moment, the "Politmer" team sees the project as a single consolidated platform, which allows to raise the debate around the pressing problems of society, take into account the public opinion when making decisions of national importance, increase the effectiveness of state bodies and establish communication between the population and government structures.
The website contains information on more than 120 political figures, including the President of the Kyrgyz Republic, the Prime Minister and Ministers of the Kyrgyz Republic, deputies of the Jogorku Kenesh of the Kyrgyz Republic, plenipotentiary representatives of the Kyrgyz government in the regions and others. Each politician has his own profile on the web portal: biographical data, track record, dossier – a kind of history of statements, statements and initiatives that were voiced in past years, as well as a policy archive (election programs, ratings and others).
The database of political promises of the project contains over 1,300 entries in Russian and Kyrgyz. The site today has more than four thousand unique subscribers. Politmer's materials are actively used in journalistic investigations and in the preparation of analytical materials. During election campaigns, OTRK uses the database of political promises of the project for conducting television debates.
The Politmer team also actively uses modern media technologies, produces its own video and animation clips on topical public issues, promotes critical topics in social networks and popular web resources. Facebook page of the project has more than 3,700 subscribers